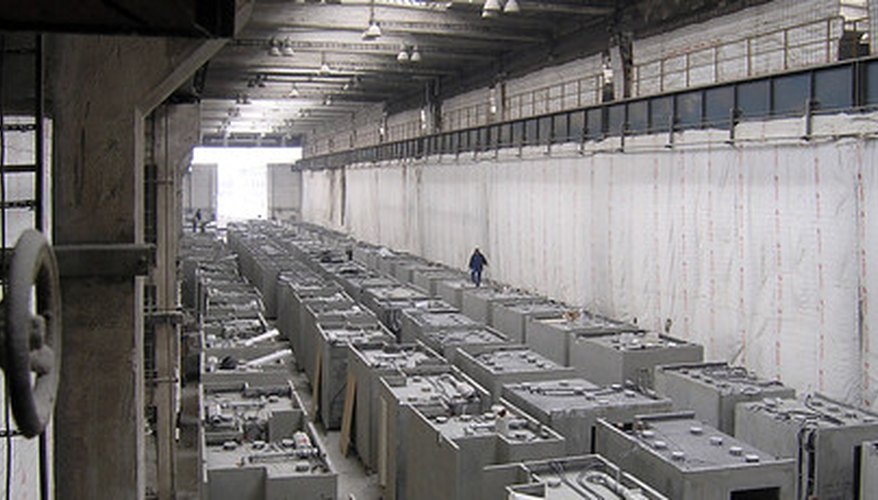 Image by Flickr.com, courtesy of seier+seier
Production planning originated in the 1960s, but back then the system operated in a backwards fashion. All of the planning was based on the delivery date and working back through the production stages from there. In the 21st century, companies must adapt to new ways of planning and scheduling product processes. With the introduction of lean manufacturing techniques, planning needs to be just as streamlined if not more so to increase productivity, keep up with demand and maximize the company's return on investments.
Streaming Data
It used to be that planning and productions schedules were done on a week-to-week basis. Companies of today need to have "real-time" data in order to be effective and competitive. All levels of the production planning process must be able to access current, up-to-the-minute data in order to properly plan production schedules. This form of planning is part of the newest generation of planning called the APS -- advanced planning and scheduling -- system.
Bracketed Scheduling
Scheduling used to be based upon the proposed delivery date. Now production planning needs to be moving in a forward direction. Delivery dates are based on when production will actually begin. All of the factors involved, including inventory, tooling, manpower and material availability, are combined into an equation that determines a more realistic estimate of the delivery date for the customer.
Visibility
Most lean manufacturing environments are using a made-to-order attitude when it comes to production planning. This approach gives the manufacturer the ability to monitor the actual progress of the order instead of using complex algorithms to define what resources will be needed to complete it. This real-time method streamlines the inventory-control aspect of planning.
Delivery Promises
Failing to keep delivery-date promises has always been the bane of any production environment. Using the APS system to allocate and order supplies before the production even begins helps keep the delivery promises more realistic. Add to that the ability of obtaining up-to-date data on all of the aspects of the project and delivery dates become more of a reality than a guess.
Multi-Site Planning
Interdependency of production between two or more sites has always been a problem in production planning. When multiple sites are need to complete the whole project, organization and proper planning are essential. New APS systems allow the planners the ability to communicate with other manufacturing sites to streamline the flow process and significantly reduce downtime.
Cost Optimization
Optimizing the cost performance of any production project is paramount for companies. Efficiency of the planning and scheduling teams is essential to lowering costs by delivering on time, reducing downtime, reducing defects and keeping the supply inventory to a minimum while still applying the pull method of production. Lowering costs makes the product even more valuable.
Dynamic Planning
Dynamic planning should also be employed to prepare the company for the "what if" situations that always arise. Having plans already made to accommodate a variety of different scheduling possibilities is just good business. With a dynamic planning structure built into the already existing plans, companies can change over to different projects without all of the usual chaos.
References
Writer Bio
Jen Shakeel has been a professional writer since 1992. She has been published at eZines, Associated Content and More4kids.info. She was first published at age 11, winning Editor's Choice Award and she has been published five times since then along with numerous ghostwriting projects. She attended Indiana University and Valparaiso University and is college educated as a nurse and a writer.