The Importance of Quality Management
by Hunter Taylor; Updated September 26, 2017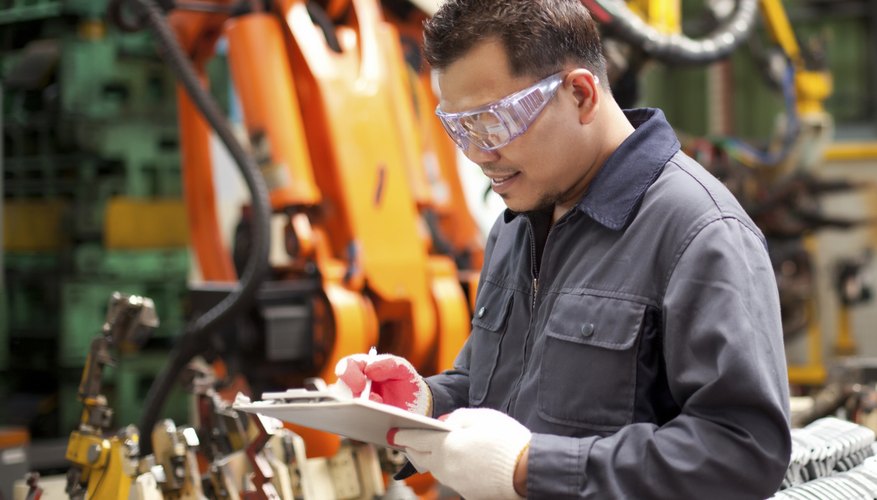 Quality management is a business principle that ensures excellence in a company's products, services and internal processes. Companies that implement quality management programs use the information from them to identify weaknesses, faults, areas for improvement and strengths. This gives the company the ability to set standards, make adjustments as needed and to offer greater value overall to their customer base. Although the approach to solving quality issues varies with different programs, the goal remains the same – to create a high quality, high-performing product or service that meets and exceeds internal and external customer expectations. When companies focus on quality management, they create a plan for success.
Product Performance
Quality management programs improve a company's product. The primary aspects of product quality management start with performance, reliability and durability of the product. With quality management programs, manufactured products undergo testing to verify they perform according to its stated promises or features. This allows a company responsiveness to change problem areas or improve product strengths. By adding quality management aspects at the design phase of new products, for example, this allows companies to design performance benchmarks into the product.
Customer Satisfaction
These programs can also help to ensure customer satisfaction. By including customer surveys in the QM program, key personnel gain understanding of the product features important to consumers. By widening the survey scope to include noncustomers, this provides additional insight into why these people use the services of the competitor, allowing the company to integrate these features into their products. Feature-specific surveys can target the areas of a product or service that need improvement or work well already. These types of programs can help a business create products that customers desire.
Reduce Waste
A well-thought out quality management program can also help companies reduce waste. Manufacturing companies, for example, that house raw material inventory pay for its storage, management and tracking. These costs are built into the price of the product. By implementing a supply-chain management program, a company can reduce the raw materials it has to keep on hand, saving money and valuable space. Such a system injects a systematic approach to keeping raw material needs equal to production requirements, which can help to bring down product costs overall, improving the product's profit margin.
Enhanced Productivity
Quality management programs also can identify areas for improvements in internal processes. This approach can impact productivity by eliminating unnecessary tasks or improving existing ones. It also generates teamwork when a company implements employee-based mixed departmental teams that review internal processes. An example of this is the balanced scorecard approach. This methodology provides a mechanism for evaluating department operations against benchmarked performance expectations. This type of quality program identifies how well individual areas of the company perform when compared with its established goals. It defines whether a company needs to streamline or re-engineer its internal processes.
Increased Revenues
Quality management programs help companies establish standards of operation in all departments. By using these programs in multiple areas, a company can identify the strategies it needs to implement. Through these programs, it can improve its reputation among its existing customers, which can also help it attract new ones. This results in employees spending less time and raw material inventory to produce quality products or services. This recaptures lost monies while refining product and service excellence, ultimately leading to increased revenues and a better bottom line.
Resources
Photo Credits
ndoeljindoel/iStock/Getty Images
Cite this Article
Choose Citation Style
Taylor, Hunter. "The Importance of Quality Management." Bizfluent, https://bizfluent.com/about-5377881-importance-quality-management.html. 26 September 2017.
Taylor, Hunter. (2017, September 26). The Importance of Quality Management. Bizfluent. Retrieved from https://bizfluent.com/about-5377881-importance-quality-management.html
Taylor, Hunter. "The Importance of Quality Management" last modified September 26, 2017. https://bizfluent.com/about-5377881-importance-quality-management.html
Note: Depending on which text editor you're pasting into, you might have to add the italics to the site name.