What Are the Dimensions of a 55-Gallon Oil Drum?
by Alan Sembera; Updated September 26, 2017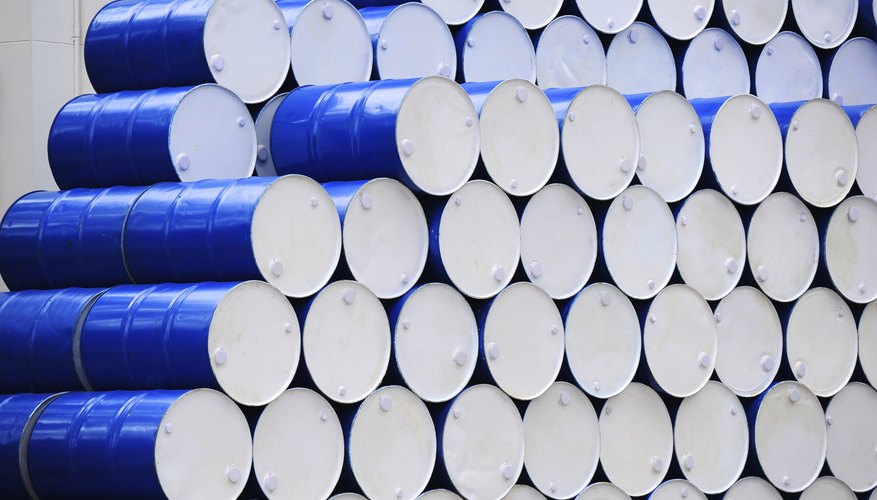 In the 1870s, standard wooden oil barrels held 42 gallons, which is why 42 gallons remains the standard of measurement for a barrel of crude oil. Today's 55-gallon oil drums are roughly the same height and width as the old wooden barrels, but they hold more volume because of thinner steel walls and the lack of curvature on the sides. The size of oil drums used in the United States today is set by the American National Standards Institute.
Conventional Drums
Conventional 55-gallon oil drums adhere to the institute's MH2 specifications approved in 1997. They have an internal diameter of 22 1/2 inches and a maximum external diameter of 23 7/16 inches. The height inside the barrel is about 33 1/2 inches, with a maximum external height of of 33 3/4 inches.
Containerizable Drums
Containerizable 55-gallon oil drums are manufactured according to the institute's MH2a specifications, which were approved in 1998. The drums have the same internal dimensions as a conventional drum, but the outside dimensions are smaller in order to fit more drums into standard shipping containers. The outside diameter of a containerizable shipping drum is 23 inches, and the height is is 34 9/16 inches.
Resources
Photo Credits
antpkr/iStock/Getty Images