Restaurant Marketing Plan Samples
by Emily Hunsaker; Updated June 29, 2018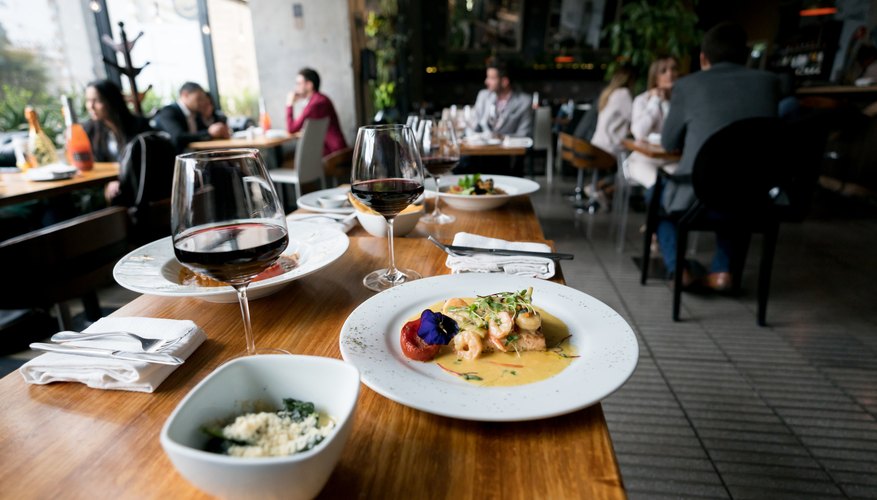 The restaurant market is a highly competitive business, which is why savvy restaurant owners must focus their efforts on marketing if they want to stand out in the industry. A marketing plan is a document that you can use to outline your marketing goals and efforts for the coming year. A thoughtfully researched and well-written marketing plan can be created by gaining insight from restaurant marketing plan samples.
Marketing plans typically consist of four sections: the executive summary, market analysis, competitor analysis and marketing strategy. In each of these sections, you will outline your marketing goals for the year, your marketing budget, strategies you plan to use to achieve those goals and the details of the research you have conducted on your industry.
Restaurant Marketing Plan Executive Summary
Restaurant Market Analysis
The second section of a marketing plan for a restaurant is the market analysis. This section will require you to conduct research into your restaurant's niche and outline a target market for your restaurant. The market analysis is important because it allows you to gain a firm grasp of your ideal customer. The analysis should include relevant demographic information such as age range, income, education level and familial ties.
Begin your research by focusing on your local community. Seek out census information for your city online to determine the lifestyles of the people living in your city such as where they work, their age and income information. Additional restaurant-specific information can be gathered from the National Restaurant Association. Narrow this search further by observing your own customers in your restaurant or by conducting an online survey. From your research, create target customer profiles that will help you focus your marketing efforts specifically to those ideal customers. For example, a sports-themed restaurant's target market may be made up of young men, ages 18-to-35, with a college degree and an average income of $50,000.
Competitor Analysis
Marketing plans for restaurants should not ignore your competition, which means you need to do some research on your competitors, as well. For the competitor analysis section of your marketing plan, choose a group of restaurants that you feel are your biggest competition and examine them in more detail.
Each competitor analysis should include a description of the restaurant, their marketing tactics, information about their menu and pricing, and their target market. Visiting each restaurant will allow you to gain some insight into the information you'll need for your analysis. In addition to basic information about each competitor, this section of your restaurant marketing plan will also need to include an analysis of your competitors' strengths and weaknesses.
Marketing Strategy for a Restaurant
Every other section of your restaurant marketing plan will lead up to the final piece of the puzzle – the marketing strategy. This section details the specific actions you will take to achieve the goals laid out in your executive summary. In addition to outlining your marketing plans in a calendar of events and promotions you plan to hold throughout the year, your marketing strategy section should also include a budget. If you plan to host a dinner special on Valentine's day, for example, your marketing plan should include how you plan to market that promotion.
Will you advertise on social media? What will be the budget? Who will be your team members responsible for graphic design, writing advertising copy, customer service, etc. and what will be the deadlines? You'll need to set some goals, such as to book 50 tables. And what metrics will you use to measure the dinner's success, such as the number of bookings, click-through-rate of ads on social media, etc?
This will be the most detailed section of your marketing plan because it will outline specific details of each marketing strategy you plan to implement. Every strategy should not only include details about the marketing efforts involved but also how success will be measured.
Cite this Article
Choose Citation Style
Hunsaker, Emily. "Restaurant Marketing Plan Samples." Bizfluent, https://bizfluent.com/info-8352351-restaurant-marketing-plan-samples.html. 29 June 2018.
Hunsaker, Emily. (2018, June 29). Restaurant Marketing Plan Samples. Bizfluent. Retrieved from https://bizfluent.com/info-8352351-restaurant-marketing-plan-samples.html
Hunsaker, Emily. "Restaurant Marketing Plan Samples" last modified June 29, 2018. https://bizfluent.com/info-8352351-restaurant-marketing-plan-samples.html
Note: Depending on which text editor you're pasting into, you might have to add the italics to the site name.