How to Format a Performance Appraisal
by Allison Hart; Updated September 26, 2017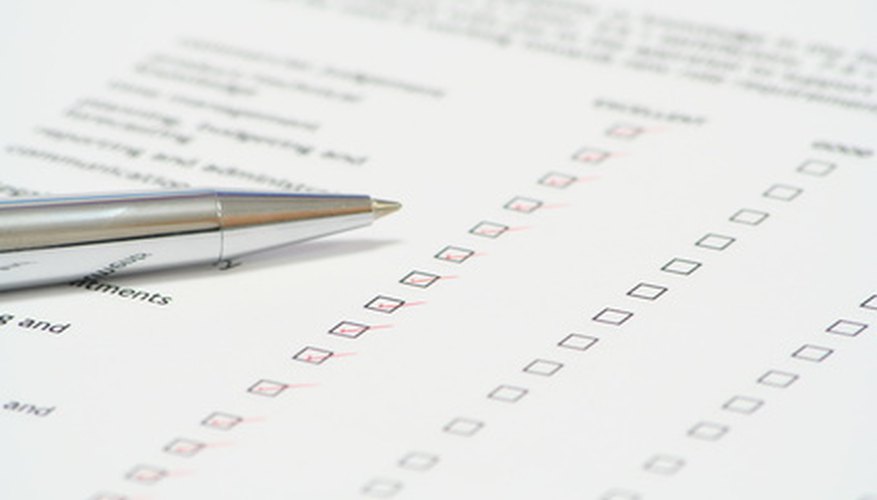 As a manager of other employees, it is essential to provide regular feedback on their performance in the form of appraisals. Appraisals can be given on a regular basis, such as monthly, quarterly or annually. Regular appraisal of employees is an important method for ensuring adherence to organizational standards, fostering individual employee growth and improving overall organizational performance. Following a standard format for employee appraisals will ensure consistency in evaluation and make the process easier to manage.
Items you will need
Description of job responsibilities
Employee's self-assessment of performance
Step 1
List the basic information for the employee and the position. Be sure to include employee name, company name, department or division name, location, position title, length of service, time in present position, time period covered under the appraisal, appraiser name and title and appraisal date.
Step 2
Assess the job description to determine the major areas of responsibility and goals for the position. Employees should be evaluated on their success in handling these responsibilities. Make a list of the major areas of responsibility and goals for the employee and include a brief description of each.
Step 3
Review the feedback you have received from the employee. This feedback should include the employee's own assessment of his performance against responsibilities and stated goals. Add this information to the appraisal form under the appropriate area of responsibility.
Step 4
Examine the areas of responsibility, goals and employee self-reported performance data. Determine whether or not the employee has been successful for each. Assign a rating based on the employee's performance against each responsibility or goal, and add that rating to the appraisal form. A sample rating system might be: 1-3=poor, 4-6=satisfactory, 7-9=good, 10=excellent.
Step 5
Check the appraisal for any low ratings that indicate a need for improvement. For those areas, include a recommended action plan for improvement on the appraisal form.
Step 6
Arrange a time to review the appraisal with the employee.
Tips
Ask the employee to provide a detailed assessment of performance a few weeks in advance of the appraisal date. Another option is to require regular performance updates from the employee throughout the time between appraisals and compile this information for easy reference when completing the appraisal form.
References
Photo Credits
performance review image by Christopher Hall from Fotolia.com