How to Organize Your Contracts With Contract Management Software
by Vanessa Cross; Updated September 26, 2017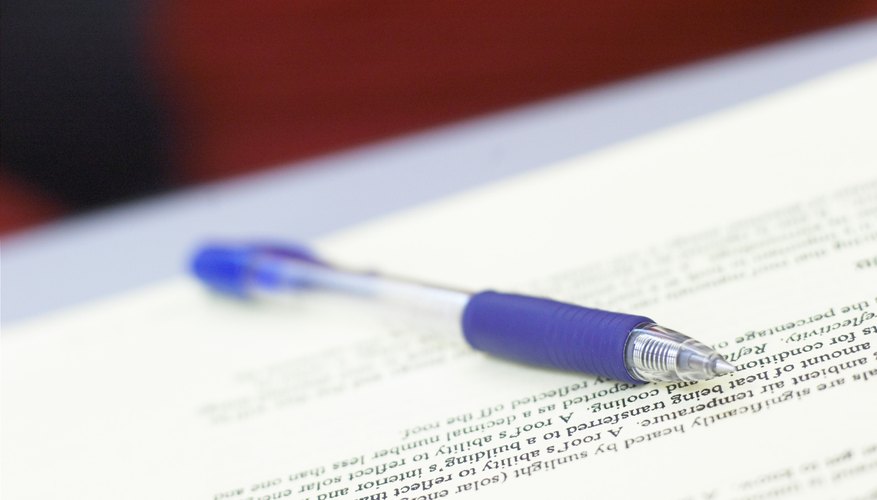 Contract management software is designed to increase efficiency for contract administrators charged with developing and maintaining a large workflow of supplier and vendor contracts. It provides a digital solution and a centralized location to manage contracts. An assortment of contract management software programs is available in the market and each one will offer a different suite of features.
Step 1
Develop a database of boilerplate contract templates. Contract management software generally has the ability to store general categories of boilerplate contracts that serve as the boilerplate contracts for new negotiations. Categorize the database of contracts to assist administrators managing large quantities of vendor and supplier contracts for procurement of a variety of goods and services.
Step 2
Track changes to contracts. During the contract negotiation stage, contract management application can provide administrators with the ability to assess historical changes to contracts. This can be helpful when evaluating the contract negotiation process, such as identifying the type of concessions made during negotiations. In addition, software applications typically includes calendaring systems with ticklers, tools for sharing information with parties across an enterprise, and the ability to schedule and develop agendas for meetings related to particular contracts.
Step 3
Track contract performance. Contract performance requirements can be a tracked feature through a contract software program. When a key performance requirement is completed, this can be noted as a feature in the contract management software. This assists administrators to identify contracts that need attention, for example, when performance requirements are not delivered according to established timelines.
Step 4
Manage terminated contracts. Contract management software provides administrators the opportunity to mark contracts as terminated. Contracts might be terminated for a variety of reasons. This is typically due to non-performance. Tracking this information can assist in performing quantitative data assessments. For example, an organization might want to look at recurring causes for contract terminations and even identify departments that are generating the most terminated contracts.
Step 5
Manage closed contracts. An organization's audit of contract performance on closed contracts might include providing a supplier performance rating. Quantitative data available from contract management software makes it easier to generate quantitative data reports that can be used for evaluations. In addition, reports can be generated about the total number of closed contracts during a given period, including financial assessments for budgeting purposes.
Warnings
Consult with legal counsel to ensure that contract management software features comply with contract law requirements within the state that governments the contract.
Photo Credits
BananaStock/BananaStock/Getty Images