How to Write a Basic Contract Agreement
by Tom Chmielewski; Updated September 26, 2017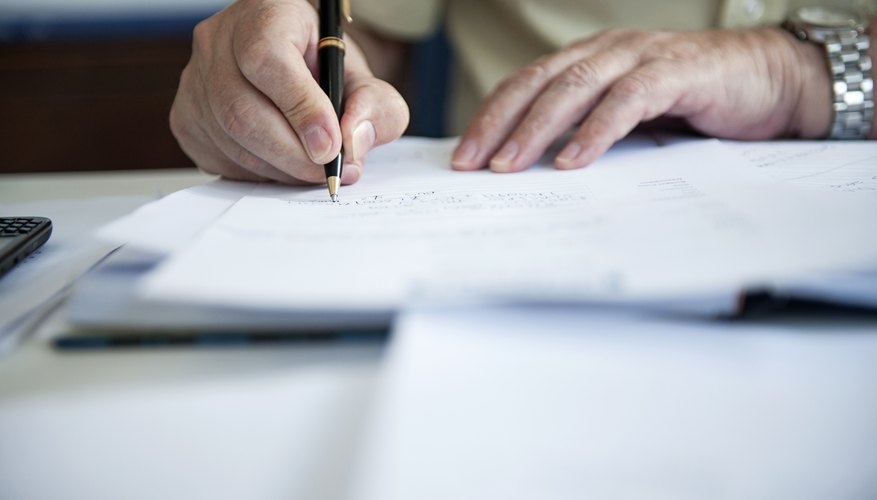 In legal terms, a contract is any agreement between parties to exchange things of value, such as goods and services for cash. A simple handshake agreement is legally binding, but its terms are not always provable if a dispute arises. However, you don't necessarily need pages upon pages of legalese. A basic contract agreement often works best for a simple business transaction.
Legal Contracts
Under state laws, only a few category of contracts must be in writing, such as a mortgage contract or contracts covering more than a year. It's still a good idea, however, to have a written agreement for business transactions beyond an ordinary sale of goods. There is no law requiring a lawyer to write your contract. If the transaction is relatively simple, the contract can also be simple. But you also have to pay attention to certain details to avoid issues arising later.
Naming the Parties
You begin the contract by naming the parties in the agreement. This may seem obvious, but attorney Mark Cohen of Colorado writes in his article Ten Things to Consider Before Signing a Contract that "a common error is to use the name of a person representing an entity rather than the name of the entity."
If you run a business as a sole proprietorship, it would be appropriate to be identified in the contract as John Jones doing business as Jones Plumbing. If you organized your business as a Limited Liability Company, identifying your participation in the contract by your name could remove any personal liability protection that an LLC provides. Similar issues can arise with a partnership if each individual is identified as a party to the contract.
Except for a sole proprietorship, enter your business entity's name and not a personal name as a party to the contract. Otherwise, Cohen adds, "you will be personally 'on the hook' and you have lost the limited liability that was likely one of your reasons for forming the entity in the first place. Never blur the distinction between you and the entity you own or represent."
Define the Scope of the Work
The terms constitute the body of the contract. Start off by clearly defining what it is the scope of the work or service you are to provide, and the timeline you propose to complete the work. Be specific. Don't simply say you will renovate a client's kitchen. Provide details of the cabinet designs, countertops, and other materials and work you will provide. If applicable, give a timeframe for each phase of a project.
Specify Time and Amounts of Payments
Entering your hourly rate and projected time for completion, or the total amount of payment for the project may not be enough. Depending on the project's scope, the contract should include:
Any portion of fees to be paid upfront.
Any fees to be paid at milestones as a project proceeds.
Payment for work completed if a client cancels the contract.
Late fees if the client doesn't pay on time.
Hourly rate for your time due to delays caused by the client or for client's request to perform additional work.
Sign and Date the Contract
"If an entity is a party to a contract, it is imperative that the signature block properly identifies the party signing on behalf of that entity," writes Michigan attorney Michael J. Hamblin in his website's article How to Properly Sign a Contract so It Will Be Enforceable. The signature block should name the entity, then under the signature, the name and title of the person signing, such as:
Jones Plumbing, LLC By:**** John Jones Manager
Each signee should include the date next to the signature.
Who Can Sign
For partnerships, only general partners can sign a contract, not a limited partner. For LLC's, a managing member or a hired manager can sign. For corporations, the company's president or chief executive officer is presumed to have the authority to sign. For an organization or association, a board president would have the authority, but may require a vote of the governing board to approve the deal.
Resources
Photo Credits
ShotShare/iStock/Getty Images