Why Is Motivation Important?
by Neil Kokemuller; Updated September 26, 2017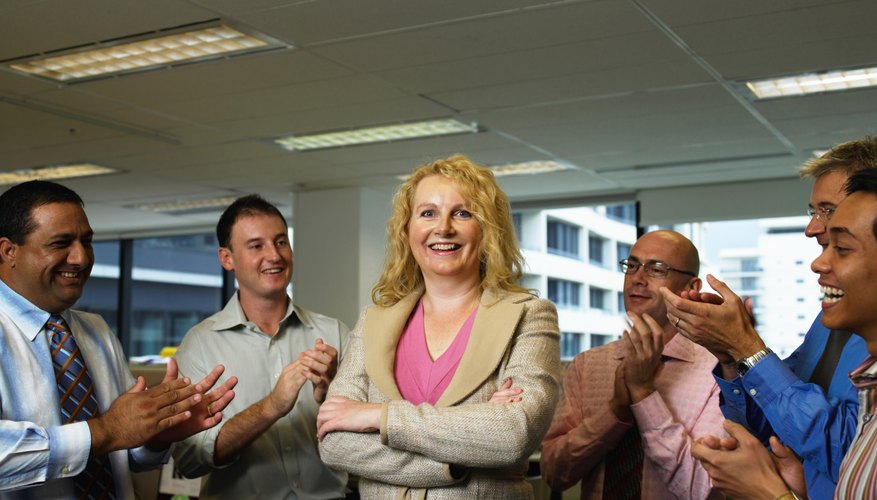 Motivation is the catalyst that encourages someone to perform certain types of activities for a certain period of time. For a company, identifying the factors that motivate workers and utilizing them effectively leads to positive workplace morale, higher production, better quality and lower turnover.
Morale and Motivation
Workplace morale and employee motivation go hand-in-hand. When employees are motivated to do good work, they typically experience higher morale. When your business creates a culture and offers incentives that employees desire, positive morale is a common result.
Employee morale also relates to the intensity and longevity of motivation. Happy employees who appreciate their workplace tend to stay motivated longer than unhappy employees, according to a May 2013 Forbes article.
Output and Productivity
The level to which employees are driven to perform their jobs impacts the quality and volume of their output. A highly motivated salesperson is more likely to overcome sales call reluctance, prepare his presentation and handle buyer concerns more effectively than a salesperson just going through the motions to get a paycheck. The net result is greater commission income for the motivated seller.
In a production facility, a motivated worker performs tasks efficiently and with optimized production as a goal. A less motivated worker only does what is necessary to meet the bare minimum expectations of his manager.
Employee Turnover
High employee turnover is costly for businesses. Losing knowledgeable and experienced workers and having to train ones are major expenses stemming from turnover. Motivated and happy employees typically remain with an employer.
Finding the individual motivational triggers for each employee is one factor in minimizing turnover. A culture where employees are comfortable and happy with what they do on a daily basis is vital to generating long-term loyalty, though, reports Forbes. Money isn't always the primary motivator for workers. Helping children, working in an area of passion and doing good things for the community are other possible motivators for your workers.
Incentives and Rewards
Each worker shows up for his job and produces results for his own reasons. Recognizing the tangible rewards and incentives that matter most to your employees helps you to develop effective motivational strategies.
Commissions and bonuses are financial rewards that motivate people looking for a chance to earn significant income. Other rewards or benefits that motivate people include a fun or comfortable work environment with such perks as a fitness center, on-site child care and cafeteria. Simple praise drives some high performers, whereas formal awards are better for others. Offering education and training opportunities to an employee with a desire to grow is effective, as well.
Photo Credits
David Woolley/Photodisc/Getty Images
Cite this Article
Choose Citation Style
Kokemuller, Neil. "Why Is Motivation Important?" Bizfluent, https://bizfluent.com/about-4579837-motivation-important-.html. 26 September 2017.
Kokemuller, Neil. (2017, September 26). Why Is Motivation Important? Bizfluent. Retrieved from https://bizfluent.com/about-4579837-motivation-important-.html
Kokemuller, Neil. "Why Is Motivation Important?" last modified September 26, 2017. https://bizfluent.com/about-4579837-motivation-important-.html
Note: Depending on which text editor you're pasting into, you might have to add the italics to the site name.