How to Add Staples to a Toshiba E-Studio 450 Copier
by Patrick Phelps; Updated September 26, 2017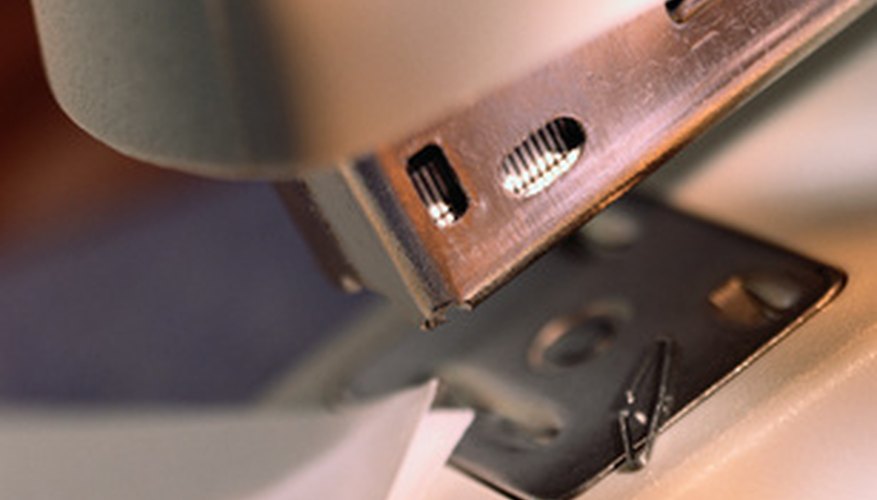 The Toshiba E-Studio 450 copier is a 45 page per minute digital copier that is capable of serving as an office copier, fax machine, printer and network scanner. In addition to adding the optional increased functionalities, the Toshiba E-450 copier also has optional finishing equipment. Finishers for digital copiers usually provide stapling and collating. Adding staples to the E-Studio 450 can be accomplished in a few steps.
Step 1
Open the cover of the finisher attached to the E-Studio 450. Depending on the model finisher, the cover will either be a small door on the finisher's front side, or a large cover that, once opened, reveals the entire inside of the finisher.
Step 2
Remove the staple cartridge. On the inside of the finisher's cover, there is a diagram that will show exactly where the staple cartridge is located. Pull the cartridge straight out to remove it.
Step 3
Remove empty staple case. The empty case will be located on the bottom of the front of the cartridge
Step 4
Remove the seal that surrounds the new staples. The seal will pull off fairly easily and reveal the new staples.
Step 5
Load the new staples into the cartridge. When the staples are installed correctly, they will "click" into place. Close the finisher cover and run test copies.
Warnings
Removing the staple cartridge prior to it being empty may cause a staple jam. Wait until the staples are empty before refilling.
References
Resources