List of Community Service Project Activities
by Michael Zehring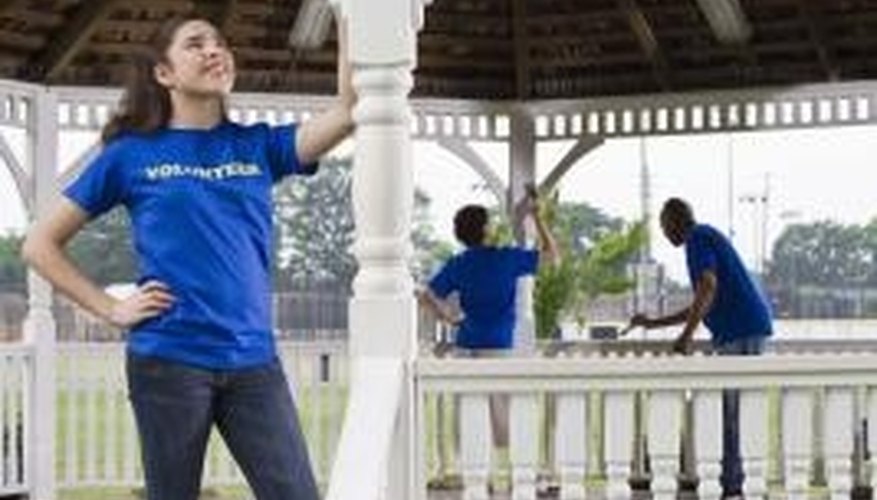 Serving your community is a great way to improve your neighborhood, build relationships and help a fellow person. Community service is volunteer-based and benefits the public, but the volunteer also can reap some benefits. Many organizations look at community service favorably when judging the merit of a candidate for hire. Community service often is a preferred way to pay back society for breaking the law.
Community Service Activities
No set activities define community service. Any activity that helps the community or people in it is serving the community. Some examples of popular community service activities include: Pick up trash in a public park, help a neighbor with a house project, volunteer at a youth center, visit an elderly care home, volunteer at a homeless shelter, tutor children, plant a community garden, organize a neighborhood crime watch, hold a food drive for the homeless, coach a little league sports team, clean up graffiti, volunteer at a crisis shelter or perform random acts of kindness.
Finding Service Projects
Most of the time, it only takes a phone call to find opportunities to serve the community. City governments are always looking for volunteers to carry out various programs. Churches and religious organizations generally are looking for people to serve the community, and youth centers are made up largely of volunteers. Keeping your eyes and ears open may be the easiest way to find community service activities. If something around your city doesn't look right to you, chances are it doesn't look right to others, too. However, no one has done anything about it. Being proactive is the best way to get things done.
Reasons to Serve the Community
Sometimes community service fulfills a need or meets a requirement, but there are plenty of other reasons to serve. Community service helps volunteers learn about their communities and explore new activities that they might be passionate about. Those who actively pursue change in their communities are the ones who shape their environment. Community service also has cognitive effects. According the the University of Michigan, people who participate in community service are less stressed and have increased satisfaction.
Community Service Organizations
Fraternities and sororities are known for their involvement in community service. Some college communities have rejected students with a 4.0 grade point average from entrance into their club because they did not demonstrate an adequate level of service to the community. High schools have begun requiring students to perform community service in order to graduate. In Washington state, students must complete 60 hours of community service prior to graduation. Habitat for Humanity, Project Cure and the AIDS project are popular volunteer-driven organizations that serve on a global level.
References
Photo Credits
Jupiterimages/Creatas/Getty Images