A playground defined under New York General Business Law 399-dd is â??an improved area designed, equipped, and set aside for play of six or more children which is not intended for use as an athletic playing field or athletic court and shall include any play equipment, surfacing, fencing, signs, internal pathways, internal land forms, vegetation, and related structures.â? New Yorkâ??s Consumer Protection Board, working with related offices, publicizes rules and regulations addressing playgrounds and features, including those for safety. rnrnUnder the general law, the rules and regulations publicized by the Consumer Protection Board addressing the â??design, installation, inspection and maintenance of playgrounds and playground equipmentâ? must â??substantially comply with the guidelines and criteriaâ? in the handbook for public playground safety produced by the United States Consumer Products Safety Commission or any successor. The rules and regulations found in the 55-page 2008 Public Playground Safety Handbook apply only to public playground equipment prepared for use by children 6 months through 12 years.
Site Selection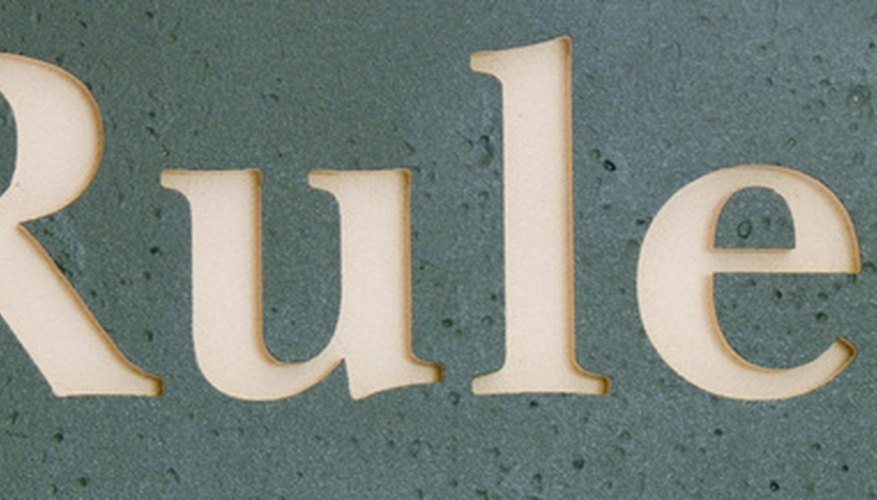 In Section 2 of the Playground Safety Handbook, entitled General Playground Considerations, the CPSC provides an expansive look at several things to consider when establishing a playground, such as site selection. It notes, for instance, the importance of appropriate shading from the sun and advises that bare metal slides, platforms and steps should be shaded or located out of direct sun. Playgrounds should also provide warnings that equipment and surfacing exposed to intense sun can burn.
Playground Hazards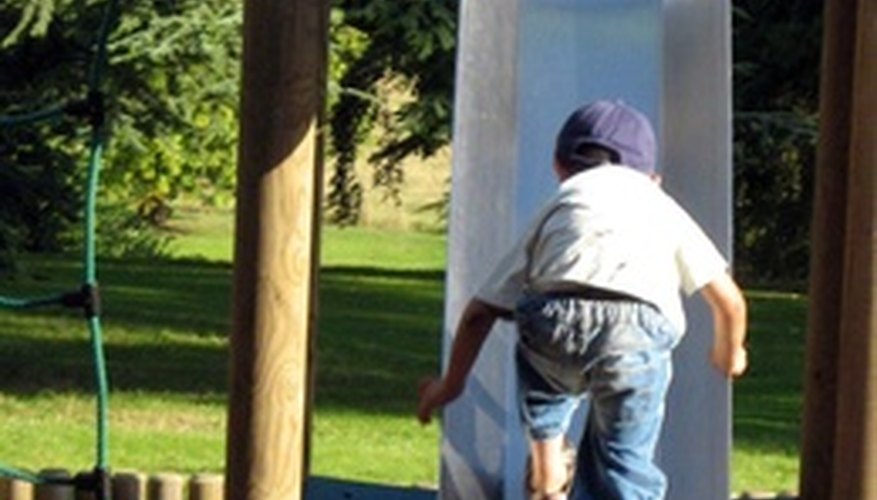 slide. a boy walking up the slide image by L. Shat from
Fotolia.com
Among playground hazards, the Handbook points out that anything that can crush or shear limbs should not be accessible to children on a playground. Also noted is that playground equipment should not be able to entangle childrenâ??s clothing nor should projecitons be large enough to impale. Head entrapment, covered in 3.3.1, is also noted as a serious concern. It is explained that â??certain openings could present an entrapment hazard if the distance between any interior opposing surfaces is greater than 3.5 inches and less than 9 inches.â?
Maintenance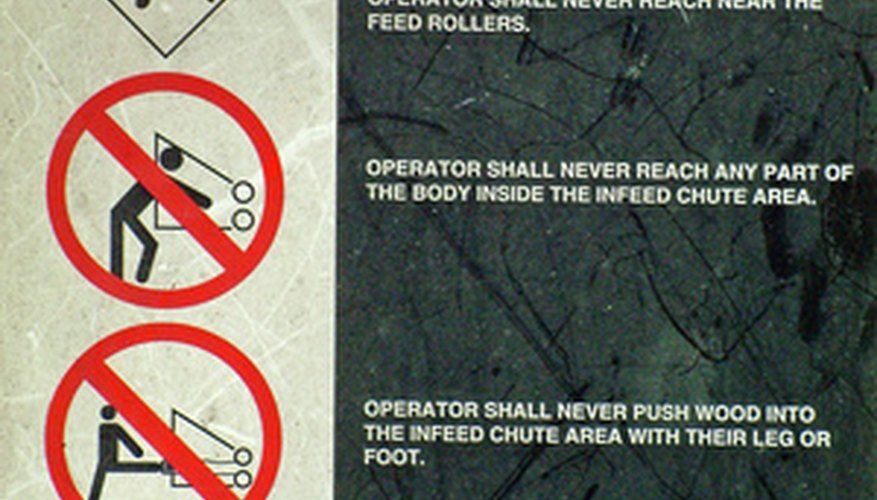 In the Maintaining a Playground section of the Handbook, it is shown how proper maintenance of a playground contributes to safety, and a comprehensive maintenance program is recommended for each playground. Any problems found during inspection should be fixed as soon as possible, particularly the maintenance of loose-fill surfacing such as areas under swings and slide exits. the Handbook explains how to keep good maintenance records, pointing out that a record of any accidents or injuries on the playground should be kept, as they help to identify potential hazards or dangerous design features.
Parts of the Playground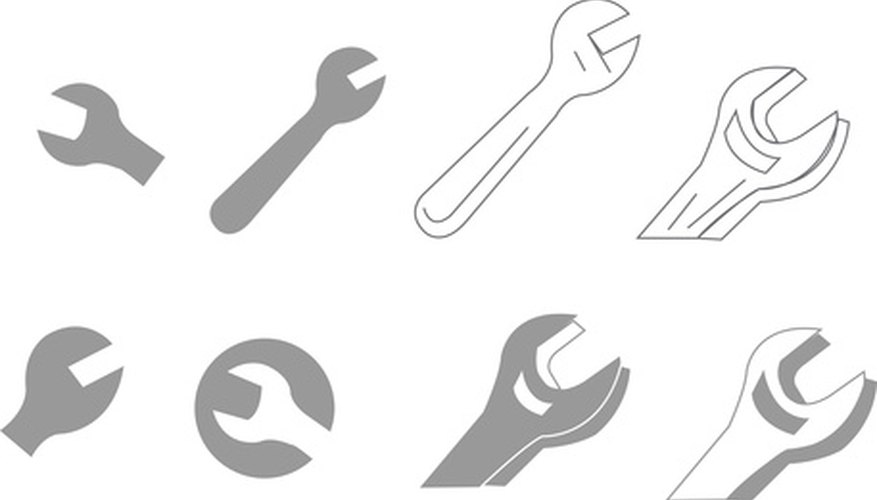 In this section, the Handbook identifies various parts that make up the playground and discusses their recommended specifications. It points out if a platform is intended for toddlers it should be no more than 32 inches from the ground. It is also noted that guardrails or protective barriers should be provided on elevated platforms, walkways, landing and transitional surfaces.
Penalties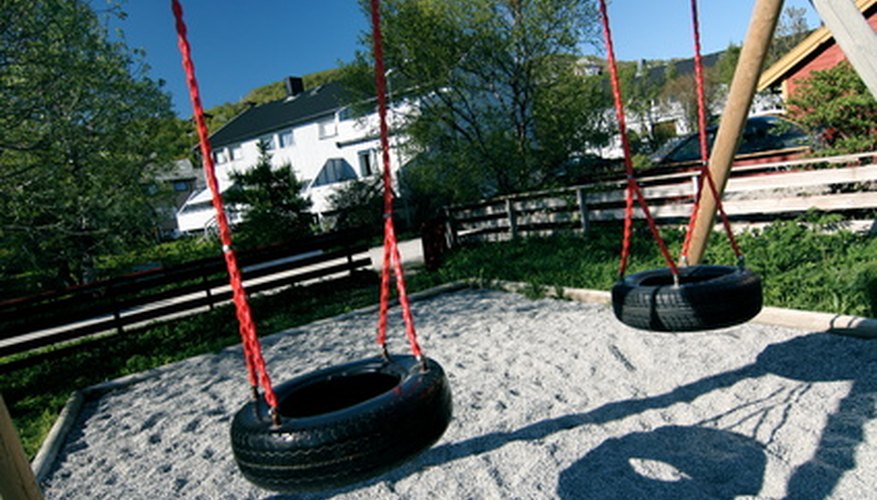 playing ground image by Tormod Rossavik from
Fotolia.com
It is unlawful in New York State to construct playgrounds or prepare playground equipment contrary to the rules and regulations set forth by the regulating agencies. New Yorkâ??s attorney general may bring action against violators of playground guidelines in the stateâ??s Supreme Court for a judgment enjoining the continuance of the violation and â??for a civil penalty of not more than $1000 for each violation,\" according to General Business Law 399-dd. The court may also \"impose a civil penalty of not more than $10,000 if the violation is knowing and willful\"
Exemptions
Under New York law, â??playgrounds or playground equipment constructed upon one, two and three-family residential real property are exemptâ? from the requirements detailed in the Handbook.