Table Handicap Requirements
by Dani Arbuckle; Updated September 26, 2017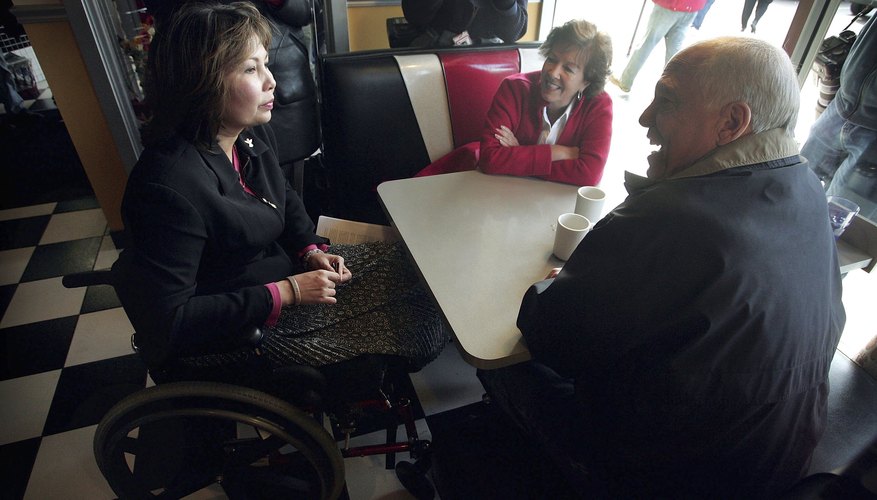 The Americans with Disabilities Act mandates that businesses must be accessible to individuals with a disability. Businesses, like restaurants, which use fixed tables -- those which are attached to the floor or wall -- must ensure that a minimum number are accessible to people with disabilities. The ADA provides specifications for doing so.
Availability of Seating
At least 5 percent of fixed tables -- and a minimum of one table if there are fewer than 20 tables -- must be accessible if doing so is "readily achievable." The term "readily achievable" means that it is "easily accomplishable without much difficulty or expense," according to the ADA Guide for Small Businesses. If it's not readily achievable to have accessible tables in all areas of the business, then they can be placed in another accessible area in the business. The ADA Guide for Small Businesses notes, however, that these locations must be available to all customers; you cannot segregate disabled and able-bodied customers.
Dimensions and Specifications
Accessible fixed tables must be at least 29 inches tall and can be no taller than 34 inches. They must also offer a minimum knee clearance -- measured from the floor to the bottom of the table surface -- of 27 inches.This knee clearance must extend at least 19 inches under the table. Thirty to 48 inches of floor area must be provided between the seat and the table.
Photo Credits
Scott Olson/Getty Images News/Getty Images