ADA Requirements for Handicap Parking Signs
by Matthew Schieltz; Updated September 26, 2017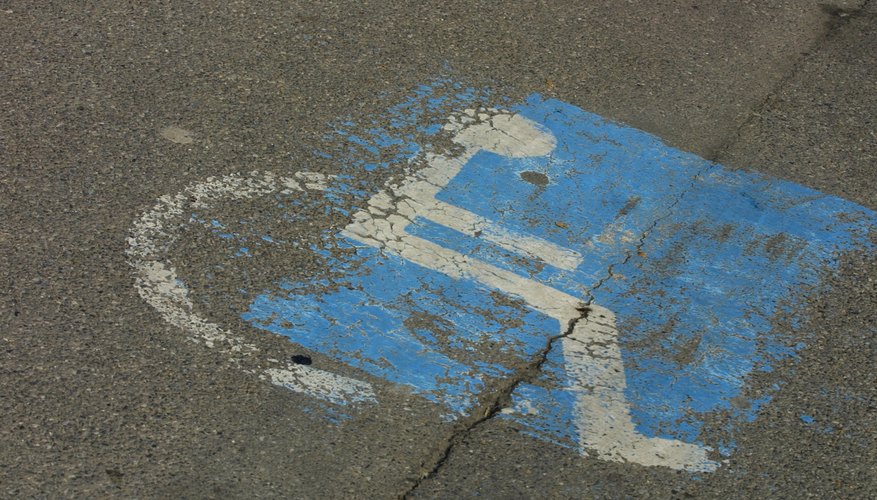 The Americans with Disabilities Act (ADA) is a civil rights law enacted in 1990 that prohibits discrimination against those with disabilities. The ADA provides regulations for a number of different issues which businesses must adhere to in order to service the needs of the handicapped. The Act stipulates that handicap parking must be offered providing the shortest distance to a business' entrance. Handicap parking signs are an important issue that the ADA regulates since these mark where handicapped individuals are able to park.
Symbol
The Americans with Disabilities Act requires that each handicap parking sign must contain the International Symbol of Access. This symbol is the familiar picture of a person using a wheelchair on top of a blue background. The sign is required to indicate that spaces have a minimum of a 60-inch wide adjacent access aisle, in other words, the spaces are designated for handicapped individuals. Signs with this handicap symbol can usually be purchased from medical supply and sign companies.
Extra-wide Spaces
The ADA requires that one for every eight handicap parking space have an extra-wide 96-inch access aisle to provide for handicapped individuals. These are known as van-accessible parking spaces. As such, the ADA requires a separate parking sign to be mounted directly below the primary handicap sign showing the wheelchair symbol. This separate sign must read "Van-accessible". Since the spaces are extra-large, they are most often used for vans equipped with wheelchair lifts.
Height Requirements
The Americans with Disabilities Act does not require specific height requirements for handicap parking signs, but requires that each sign be erected high enough so that the view is unobstructed by parked vehicles. The Act also mentions that the handicap signs be placed in the front of parking spaces in such a way that they are viewable from the drivers' seat of a vehicle. When mounting handicap parking signs, consideration be given to high-top vans since many drivers for the disabled use this type of transportation.
Photo Credits
Hemera Technologies/AbleStock.com/Getty Images