Common Causes of Industrial Accidents
by Amber Keefer; Updated September 26, 2017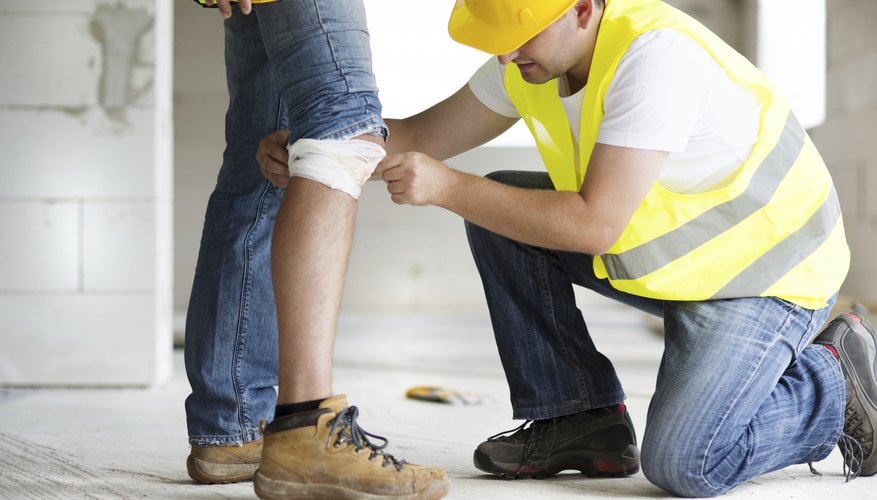 An industrial accident is a sudden and unanticipated event that can result in injuries, fatalities, property damage and lost production time. Mishaps in the workplace are fairly frequent despite federal laws to protect worker safety. Ignoring safety procedures and using poor judgment are among factors that put workers at greater risk, resulting in serious job-related injury or illness to more than 4 million U.S. workers each year.
Worker Fault
While multiple factors can contribute to an accident, usually it comes down to someone making a mistake. Employee behavior often leads to workplace mishaps, whether they're related to improper procedures, misuse or poor maintenance of equipment, fatigue or the lack of training. Despite the establishment and enforcement of Occupational Safety and Health Administration (OSHA) safety standards, the agency estimates the annual cost of known workplace fatalities alone at some $40 billion.
Risky Behavior
Failing to follow safety procedures not only endangers workers but often puts others at risk. Likewise, overconfidence can affect a worker's ability to make sound decisions. An employee who overestimates his abilities can underestimate the risk associated with a particular action, leading to costly errors or physical harm. Taking shortcuts intended to save time or increase productivity can also cause problems. Even relatively minor mishaps can come at a high price in direct and indirect costs.
Unsafe Procedures
Employers generally create written policies that include proper procedures for completing specific tasks. Neglecting to follow them can lead to unsafe conditions. Specific instructions should give employees a clear understanding of how to go about a task and the safety precautions needed to complete it. Handling materials in the wrong way or using the wrong equipment can cause problems.
Known and Unknown Dangers
Unless workers know what kinds of dangers to watch for, hazards can be hard to avoid or protect against. Falls, being struck by objects, getting caught in machinery and exposure to hazardous chemicals are common causes of on-the-job injuries. Inexperienced workers in particular are at higher risk for accident-related injuries. Manufacturing defects involving machinery and poorly designed equipment often are involved in work-related accidents as well. Consequently, it's important to minimize workers' exposure to dangerous substances or conditions.
Photo Credits
pojoslaw/iStock/Getty Images