The Average Salary of an F1 Racing Mechanic
by Amrita Chuasiriporn; Updated September 26, 2017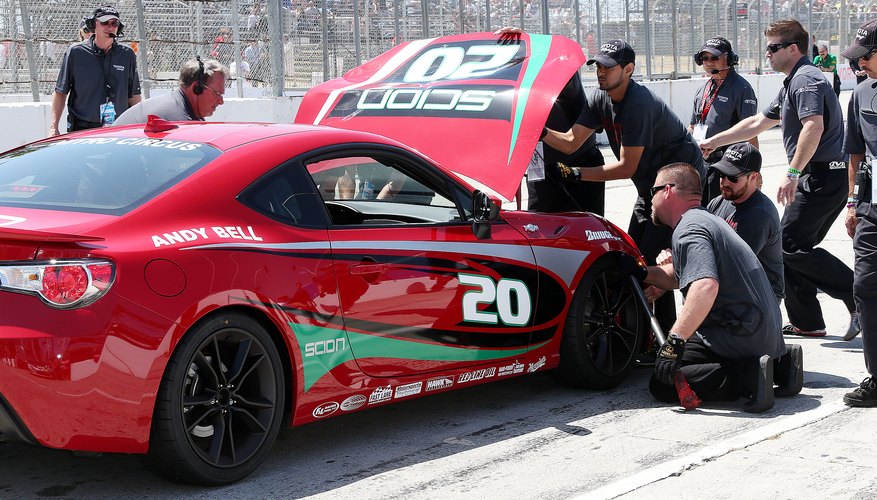 The amount of money professional athletes are paid is a regular topic of headlines. If you follow Formula One racing, you'll know it's no different for the sport's drivers. But what about F1 mechanics, the unsung heroes of the sport? While they don't get paid as much as the drivers, you'll be happy to know they do get paid fairly well -- especially if you're thinking of becoming one.
Salary
According to Force India F1 team manager Andy Stevenson, F1 mechanics can earn anywhere from 30,000 to 80,000 pounds, or $48,633 to $129,690 as of September 2011. Team managers, who must have extensive mechanical knowledge and experience, can range between 90,000 and 350,000 pounds, or $145,909 to $567,424. As of September 2011, the majority of F1 teams are based in the U.K. and pay out salaries in British pounds sterling. Among non-U.K. based F1 teams, salaries are also comparable.
Factors Affecting Salary
As an F1 mechanic, your technical knowledge and devotion to efficiently serving your team at this high level of international motorsport is paramount. Formal schooling is useful, but above all, technical ability is key. Your position as a mechanic within the team helps determine your salary. Each car racing has a No. 1 and No. 2 mechanic. The No. 2 mechanic starts at around 30,000 pounds, or $48,633, while a car's No.1 mechanic earns a bit more. The chief mechanic on a team can earn as much as 80,000 pounds, or $129,690, but is responsible for all the other mechanics in the garage. Salaries of mechanics are also affected by which team they're on -- larger teams such as Ferrari and McLaren have more money to spend on everything than smaller teams like HRT and Lotus.
Rise Through The Ranks
If you want to become an F1 mechanic and aspire to the lofty salary heights they achieve, you'll first need to become a motorsports mechanic in general. Since many teams are U.K.-based, you'll have a good chance at becoming well-known within mechanics' circles if you start working your way up in U.K. motorsport series. Matthew Conroy, a mechanic in the Formula BMW series, advises that an entry-level mechanic's position for a national series could see you starting at 15,000 pounds, or $24,316. After you gain experience, that number could rise to 24,000 pounds, or $38,902. From there, you'll make valuable contacts and gain experience to help you land a higher-paying position with an F1 team.
Considerations
F1 racing mechanics have busy lives filled with travel, which doesn't leave a lot of time for family, or for going out to spend the money you've earned. You need to love your job and be able to work long hours under intense pressure to be a successful F1 mechanic. F1 drivers take the cars you work on around the track at incredible rates of speed, and must rely on you to not only make them fast, but make them safe. That's why these mechanic's positions pay relatively well -- but it's a large responsibility to take on.
Photo Credits
Frederick M. Brown/Getty Images Entertainment/Getty Images