The Annual Salary of Roadies
by Maxwell Wallace; Updated September 26, 2017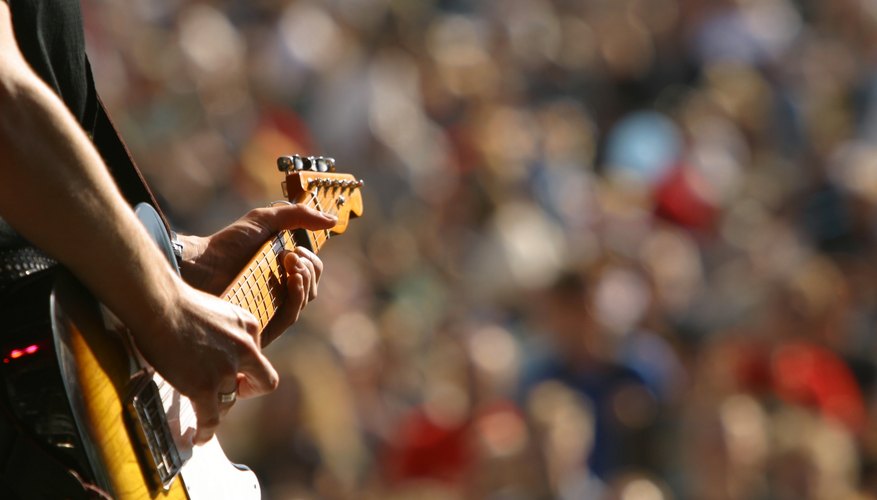 The term "roadie" refers to the sound engineering technicians that travel with a touring musical act or performance company. While the responsibilities of the job vary from act to act and company to company, the primary responsibility of roadies is to transport, set up, test, operate and ultimately dismantle sound equipment used during live performances. The U.S. Bureau of Labor Statistics classifies roadies as "sound engineering technicians," and their annual salaries can vary based on factors like location, industry and experience.
Salary
According to 2013 data from the U.S. Bureau of Labor Statistics, sound engineering technicians earn an average annual salary of $56,610 per year. This equates to an hourly rate of $27.22 when factored over a standard 40-hour work week. Sound technicians for independent artists, writers and performers, the BLS says, took home somewhat more, earning an average of $30.01 per hour, or $62,420 on an annual basis.
Industry Salary Comparison
Roadies who work with performing arts companies earn considerably less than sound technicians in other facets of industry. The average pay of sound techs for performance arts companies and performers combined is $50,900, according to BLS data. This is approximately 33 percent less than the $75,870 annual salary of sound technicians in the motion picture and video industry, who lead all other sound engineering occupational categories in average income. Stationary sound techs employed in the sound recording industry were the least well paid, earning an average salary of $23.00 per hour or $47,840 per year.
Earnings Increase Potential
Experience and production size are the two biggest factors that affect the salaries of sound technicians who work with traveling performers. According to the music industry career website CareersInMusic.com, most roadies start out touring with local acts on a volunteer basis or for minimum wage while they gain experience. Sound techs who are well versed in the ways of the road in addition to a vast array of equipment and technology can ascend to roles in national touring acts and command salaries as high as $85,700 per year.
Relevant Background and Skills
There is not strict educational or professional background necessary to become a roadie. Most roadies acquire the basics of the job through on-the-job training with experienced sound techs. Given the vast amount of travel involved with the position, traveling sound technicians must have the ability to keep flexible schedules, and, according to CareersInMusic.com, the wherewithal to live out of a suitcase. Much of the job entails constructing, working with and dismantling large-scale equipment such as staging and speakers, meaning sound physical aptitude is a desirable skill among candidates.
Photo Credits
NA/Photos.com/Getty Images