How Does an Orbital Sander Work?
by Contributing Writer; Updated September 26, 2017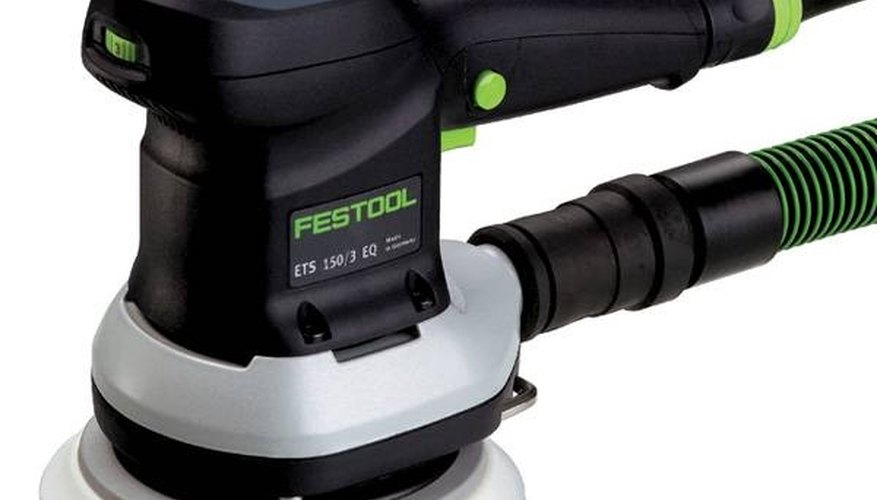 Basics
An orbital sander, a device used to sand a piece of wood, is commonly found in nearly every wood shop or workshop. Easy to operate, this sander takes a minimal amount of time to learn how to use and saves time during the sanding process. Sanding a piece of wood by hand takes much more time than using an orbital sander.
How an Orbital Sander Works
An orbital sander works by rotating a sanding disk in an elliptical fashion and does not allow even one part of damaging material to travel the same path more than once. Because of this, an orbital sander leaves a smooth finish devoid of any swirl marks. It also functions the same, no matter what the direction of the wood grain is. It makes it possible to sand two pieces of wood that are next to each other at the same time. Orbital sanders are best used for the initial sanding of the surface and should not be used between layers of paint or finish being added.
How an Orbital Sander Disk Is Attached
The disks of an orbital sander are attached via a loop-and-hook system or may also be attached by an adhesive attachment, which is pressure sensitive. A special cut of sandpaper must be used for an orbital sander. It must be shaped in a circle. Some models also have dust collectors on the base of the tool that prevent excess dust from being expelled out of the machine.
Orbital Sanders vs. Palm Sanders
In addition to orbital sanders, there are a few other sanders that can be run by battery or outlet that compete for the same retail market. A sander that is similar in price is called a palm sander, which fits in the palm of the user. With this sander, sandpaper is attached to the bottom of the unit. A palm sander is lightweight and can operate at difficult-to-reach angles. Palm sanders do not remove as much material at a time from a wood surface as an orbital sander.
Resources
Photo Credits
http://www.jamestowndistributors.com