How to Get DOT Certification for a Truck
by Tim Plaehn; Updated September 26, 2017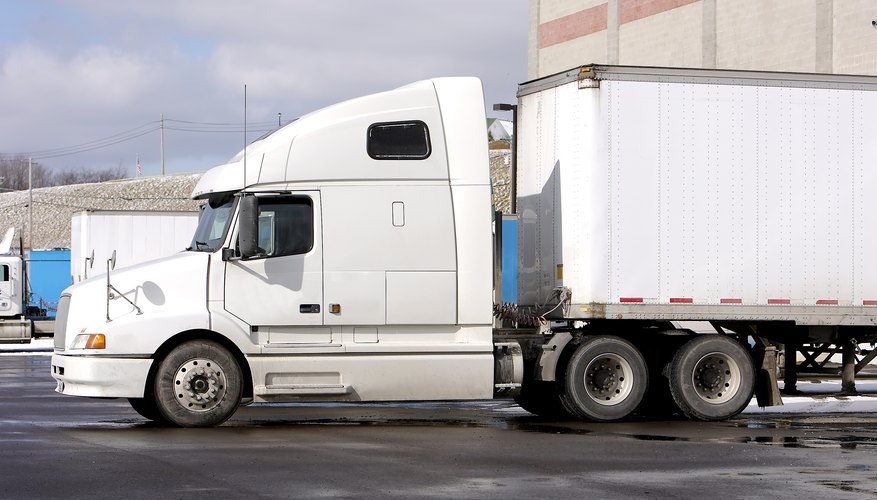 For a truck used by your business, you may need Department of Transportation certifications or registrations. If your truck required the addition of a body or special equipment, a complete vehicle certification is required. The use of the truck for interstate commerce requires a DOT number to be displayed on the door.
Cannot License Incomplete Vehicle
Your state Department of Motor Vehicles will not provide a registration and license for a truck chassis, which is a truck cab with no body or equipment on the rest of the chassis and frame. Chassis cabs are completed with the addition of a cargo box, dump body, tow truck equipment or whatever your business needs to put the truck to work.The company adding the body to your truck must provide the final DOT certification. An approved door jamb sticker or placard that lists the name of the final manufacturer and gross vehicle weight rating limits shows the vehicle is finished and can be registered to drive on the road. The certifying final manufacturer must comply with DOT vehicle manufacture regulations. This is not a do-it-yourself certification for truck owning companies not in the truck equipment business.
Obtaining a DOT Number
Using your truck for interstate transport of goods or services requires a Federal Motor Carrier registration and identification number. You must display a USDOT number on your truck. Obtain the number by completing and filing a form MSC-150 and mailing it to the Federal Motor Carrier Safety Administration division of the DOT. The form can also be completed on the FMCSA website.
Photo Credits
rpernell/iStock/Getty Images