How to Return Junk Mail to the Sender
by Mary Jane Freeman; Updated September 26, 2017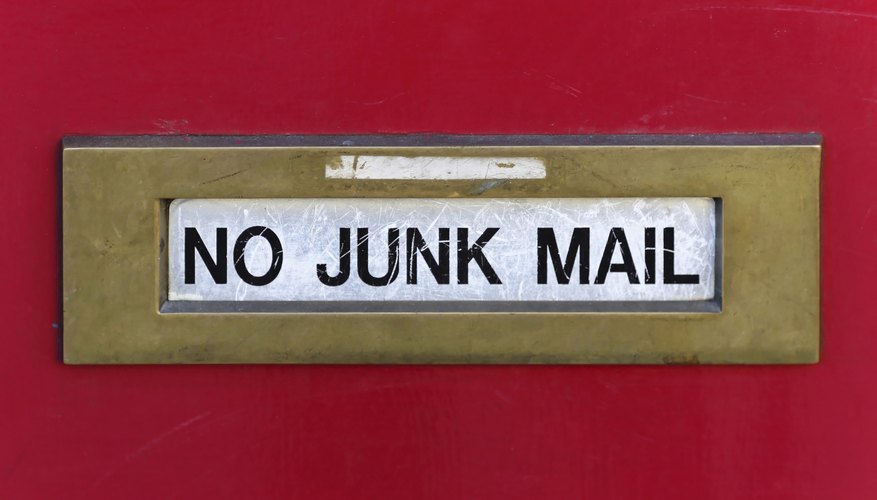 Returning junk mail is as simple as writing "Return to Sender" on the outer envelope before dropping it off at the post office or leaving it for the mailman. However, to stop junk mail from arriving at your home or business in the future, proactive steps are necessary. You must contact the senders directly and remove your name from national mailing lists.
Return to Sender
The first way to return unwanted mail to the sender is by marking the unopened envelope with words such as, "Refused. Return to Sender," "Address Correction Requested," or "Return Postage Guaranteed" and placing it in the mail. If an envelope with pre-paid postage was provided, simply deposit the unwanted mail in the envelope before dropping it off at the post office. To prevent future unwanted mail, call the customer service department of each business or organization sending junk mail and request to be removed from their mailing list. If you can't locate this number on the mailed items, you may be able to look it up online or by calling 411.
Remove Name From National Mailing Lists
The next step is removing your name and address from national mailing lists. One of the biggest is Direct Marketing Association. Mail your removal request to Mail Preference Service, c/o Direct Marketing Association, P.O. Box 9008, Farmingdale, New York 11735. Valassis, another direct mail company, accepts removal requests online on their website and by phone at (800) 437-0479. Other national mailing list providers include R.L. Polk and Company, Donnelly Marketing Inc., MetroMail Corporation and Database America. For ads, coupons and product samples, send removal requests to Red Plum, Carol Wright Gifts, Harte Hanks Direct Marketing, Val-Pak Direct Marketing Systems, Advo Incorporated and DirectMail.com. To stop financial offers from banks and credit card companies, send removal requests to the three national credit bureaus --Trans Union, Equifax and Experian -- all of which supply mailing lists to financial institutions.
Photo Credits
Baloncici/iStock/Getty Images