How to Become a Carpet Retailer
by Gail Cohen; Updated September 26, 2017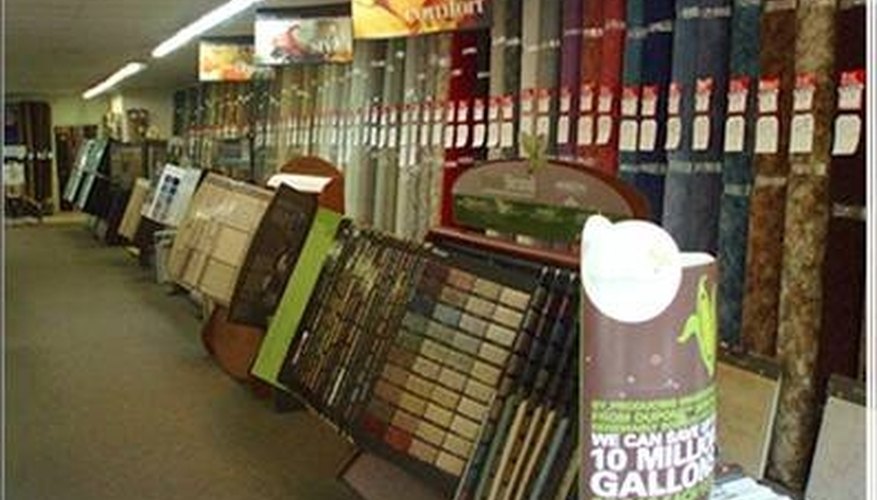 Do you have a great eye for spotting a quality carpet weave? Does ascertaining color compatibility on floor coverings come naturally to you? Perhaps you get all tingly when a sophisticated Berber catches your eye. Sounds like you were born to be in the carpet retail business. Color, weave and quality notwithstanding, the bigger question you'll need to answer is this: Do you have the patience to coddle folks making budget-busting purchasing decisions that could take place over hours--if not days--as they mutually consider hundreds of types of carpet? If you're not feeling stressed when you consider this scenario, it sounds as if operating a retail carpet store wouldn't floor you in the least.
Items you will need
Business plan
Retail location and lease
Source of funding
Licenses and permits required by local authorities
Carpet display units (wall and aisle)
Lighting
Small office set-up
Credit card and line-of-credit sources
Connections to carpet mills
Insurance coverage
Contracts with installer(s)
Warranty arrangements
Step 1
Become a carpet know-it-all before you launch your journey. Learn to identify and evaluate twists, density, backing, padding and other critical carpet features. Understand the advantages and disadvantages of tall, thick carpeting--which looks expensive but traps dirt--and twisted weaves that last longer because fiber is more durable due to the way it is twisted on the loom. Know the relationship between backings, pile and the glue that holds everything together. Speak the language of carpet by becoming familiar with terms like density, tuft, heat set, traffic impact, rebind and other industry nomenclature.
Step 2
Draft a business plan that covers store operations, marketing, advertising, funding, competitive analyses, vendor relationships, store management, long-range business projections and other critical data that compose your road map to the future. Turn to a bank, credit union or other revenue source for start-up cash to cover everything from product to store rent, insurance, build-outs and modifications (if not covered by the store owner), to office furniture and utilities for your first year of operation. Apply for licenses and permits required of retailers in your area.
Step 3
Visit carpet mills to evaluate brands after you have applied due diligence to your research efforts. Get recommendations for mills that are known for sound business practices to protect your inventory investment. To stock your store you'll need more than just popular colors and quality pile; you must also have a good grip on each mill's sales terms, wholesale pricing structure, manufacturer warranties, delivery policies, transportation costs, dating deals, buy-back policies and other business arrangements that will impact your bottom line if you don't understand them from the get-go. Once you have arrived at decisions, undertake the paperwork that will cement these relationships.
Step 4
Draft a sales and service menu so you have a clear picture of what you will and won't provide as a retailer. Outline your policies on customer delivery parameters, cancelled orders, damaged shipments from the mill, credit terms and payment requirements (cash up front, a deposit at contract signing or full payment at the time of installation?). Will you make it policy to offer discounts and specials year-round or only as a response to seasonal or overstock issues? Are you prepared to handle custom orders like customers requiring low-emitting adhesives on installations to protect allergy sufferers from exposure to certain glues?
Step 5
Negotiate with the store owner for painting and build-outs you'll need to transform the space into a carpet shop before you sign the lease. While the interior work is being done, purchase wall and floor display units. Upgrade lighting if the existing system is insufficient. Set up an office area and contact credit card companies and other financial institutions if you plan to offer credit terms to customers. Accept deliveries of carpet as it arrives from the mills. Install signage and other marketing materials sent by vendors. Locate independent contractors willing to install the carpet you sell in residences and businesses.
Step 6
Hold a grand opening to introduce the community to your new carpet retail store. Plan to become the Dr. Phil of the carpet world; knowing when to stick around and when to gracefully leave a couple while they "sort out" their likes and dislikes. Once your carpet store takes root, consider becoming a certified member of the carpet industry. You'll be required to take classes and pass exams, but learning every facet of the business will make you a true professional in the eyes of everyone with whom you come into contact.
Resources
Photo Credits
© Rosendale Carpet Store, N.Y.