How to Start a Clothing Business for Charity
by Christina Hamlett; Updated September 26, 2017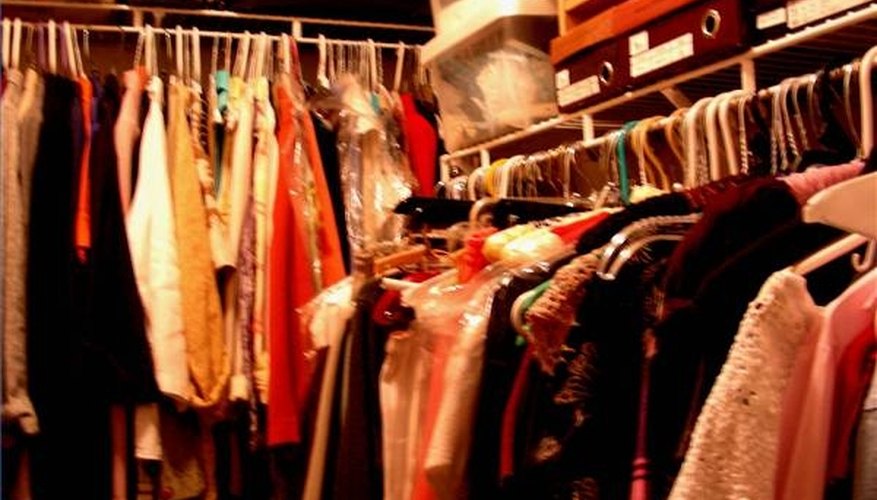 It was their awareness of how regular workaday folks like to "ooh" and "ahh" over the fab fashions worn by movie stars that prompted actor Bradley Whitford and his wife, Jane Kaczmarek, to launch "The Clothes Off Our Back Foundation," a 501(c)(3) charity in Southern California. Proceeds from the sale of Hollywood couture benefit children's charities around the world. Even if you have no connection to Tinseltown, there are probably enough people in your own community who would like to see their duds go to a good cause. Here's how to get the ball rolling.
Items you will need
A website
Non-profit status
A digital camera
A drop-off facility or pick-up service for donations
Flyers
Step 1
Survey your friends, neighbors, coworkers and members of your congregation to see if they'd like to participate in your new venture. If you have children in school, ask the school administrators if flyers can be distributed to take home to parents and/or if the announcement can be posted in the school newspaper.
Step 2
Identify a worthy cause that the proceeds from the clothing sales will benefit. You may want to incorporate this in the survey you do and solicit suggestions from prospective donors.
Step 3
Develop a business plan that identifies who will benefit from the sale of donated clothing; how you plan to collect, advertise and display donated items for bidding; and what your goals are insofar as raising money by certain benchmark dates.
Step 4
Contact the selected charity and let them know what you're doing so that they can put you in touch with key personnel. Since they are going to be the recipients of your hard work, you should ask them as well if they can assist with publicizing your organization through their own channels and the media.
Step 5
Establish your venture as a non-profit 501(c)(3) organization. (See Tips below on the procedures necessary to accomplish this.)
Step 6
Visit the website of the Small Business Administration to get helpful ideas about raising money, recruiting volunteers and managing expenses.
Step 7
Get your website up and running so that prospective donors can learn about your organization, read about the charity it will benefit, see who's on your board of directors, review the guidelines for donating clothing, and make arrangements to drop their items off at a specified locale or have them picked up. Once you start getting items for sale, the website may also serve as the virtual store for prospective buyers to view your digital photographs of what's available and place their bids.
Step 8
Contact your local media to do a story about your enterprise.
Step 9
Contact local celebrities in your community about participating. The mayor, for instance, might not mind donating a sports coat for a good cause. If there has been a recent posh gala, contact some of the prominent female participants to see if they'd like to donate their evening gowns.
Step 10
Network aggressively with civic organizations and ask that they include you in their newsletters and email blasts.
Tips
The following article link will walk you through the necessary steps of becoming a 501(c)(3) organization: http://write.demandstudios.com/view.php?articleid=175125. If you're new to fund-raising events, websites such as Fund Raiser help provides lots of innovative ideas. Always write thank-you letters to everyone who participates in your organization.
Warnings
Keep detailed records of your income and expenses. Even non-profits are subject to government audits.
Photo Credits
Photo by Christina Hamlett