How to Build a 6 Foot Privacy Fence
by Nathaniel Miller; Updated September 26, 2017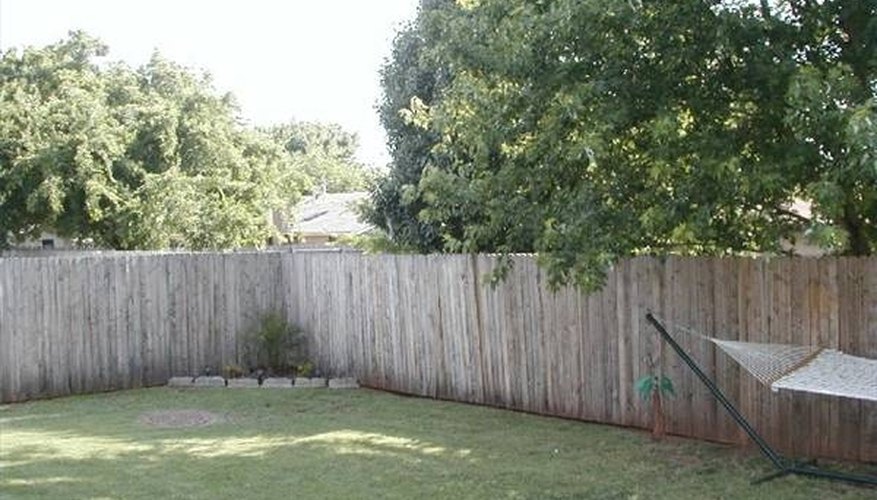 A privacy fence can serve a variety of purposes from being purely aesthetic, to keeping neighbors or animals out, and to keep kids and pets in your yard. Building a fence can be expensive and hiring a contracting company to do it for you can really start to add on to the bill. However, many homeowners can tackle this task in as little as a long weekend. Whether your are looking for a fence to accent your house or keep Fido in the yard, a 6 foot privacy fence can deliver and there is a fairly straightforward, easy construction process involved with building this type of fence. This article will outline the process in an easy to understand set of guidelines.
Items you will need
4" x 4 " x 8' posts
6' x 8' privacy fence sections
Quikrete
Level
Screw gun
Tape measure
String
Auger
Step 1
Begin by laying out the perimeter of your fence with a tape measure and the string. Be sure to have your land surveyed so you know exactly where the survey lines are. Also, check into your local building/fence codes to get the limitations associated with building a fence in your area. Based on the building codes and your available space, lay out the four corners of your fence area and mark them with a wooden stake. Use the auger to dig a 6 inch wide by 3 foot deep hole at each corner.
Step 2
Pour half a bag of Quikrete into the hole and then drop a post into the hole. Use the level on top of the post to make sure that it is level and then pour a full bag of Quikrete into the hole around teh post. Use a garden hose to fill the hole partially with water and then pack dirt around the post and allow to set up overnight. Perform this step at each of the four main corners.
Step 3
Once the four corner posts are set, run a line from corner to corner and mark out 8 foot sections. At each 8 foot mark, repeat Step 2 and mount a post. Visit your local hardware or lawn and garden store and purchase the 6 foot privacy fence of your choice. Buy the pre-built panels offered by most chain stores as these are the easiest to work with. Back at home, mount each 8 foot section of fence between two posts by screwing the panels directly into the post with the screw gun. Mount panels all the way around the perimeter of the fence and begin enjoying the new private yard you have created.
Tips
Most fence panels come pretreated and will not require staining for at least 6 months after mounting. However, within a year of mounting the panels it is a good idea to stain the fence.
Warnings
Do not construct a fence without first consulting the local zoning commission as some areas have restrictions, limitations, and even bans on privacy fences. Not knowing is not an excuse.
Photo Credits
http://www.homepcltd.com/IMG/sw-view.jpg