How to Raise Buffalo
by Contributor; Updated September 26, 2017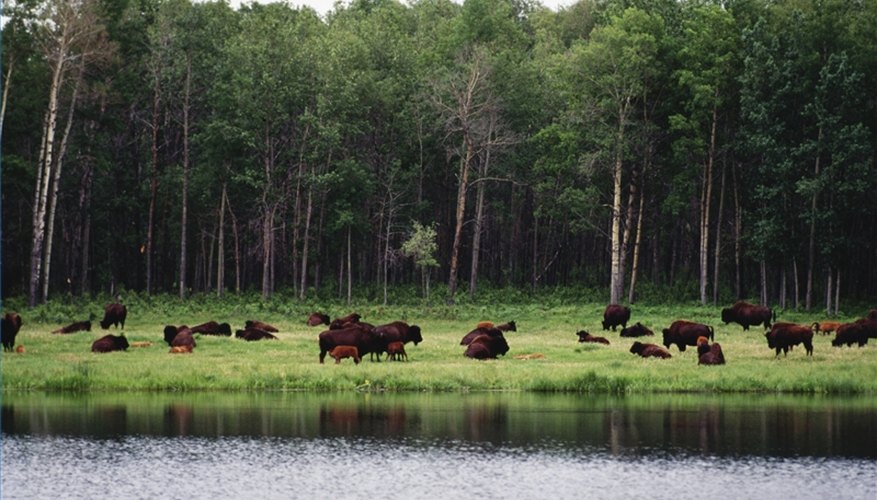 How to Raise Buffalo. It is easier to raise American buffalo, or bison, than domestic cattle because they are native to the continent. At one time buffalo ranged from Canada to Mexico, almost coast to coast. So as long as you live in North America, chances are good that buffalo can eat whatever is already growing in your pasture.
Step 1
Decide what kind of buffalo herd you want to raise. A cow-calf operation raises calves to sell to a finishing operation who prepares buffalo for slaughter. Some ranchers raise herds for organized hunting parties and others breed, wean, finish, slaughter and process the meat themselves.
Step 2
Install a tall, sturdy corral and chute system and a fence in the pasture.
Step 3
Join the National Bison Association.
Step 4
Buy starter animals from a reputable breeder.
Step 5
Find a veterinarian who has experience with buffalo and develop a vaccination and deworming schedule.
Step 6
Keep only the best bulls; cull the rest and cull any cows that don't produce calves or don't gain weight well. Replace bulls every 2 to 3 years.
Step 7
Supplement pasture grasses with hay if snow cover is deep or for finishing, pregnancy and lactation. Make adjustments to feed for optimal weight gain.
Resources